Have you claimed your Google My Business listing (GMB listing) yet? If you are not familiar with GMB lawyer listings, setting up an account is a worthwhile pursuit to help support your law firm's marketing efforts.
In Google's quest to provide more relevant search results, the search engine's offerings are always being modified and improved. One of the most impactful changes to the traditional list format of search engine results is the GMB listing that often shows up on the right-hand side of a search result.
These listings are Google's response to the notable rise in online searches today that are oriented around one's location—primarily because more people are accessing the web from their phones. The 82% of people who use Google to conduct local business searches are overwhelmingly likely to go with its first set of suggestions: the Google My Business listings that come up at the top of the results page. Indeed, 60% of these individuals are "very likely" to click on one of those initial suggestions that are presented to them.
That's where your law firm's GMB listing comes in to play.
What Is Google My Business?
"Google My Business is a free tool that allows you to promote your Business Profile and business website on Google Search and Maps," explains the team from Google. In practice, these listings put verified, local businesses at the top of the search engine results page (SERP) when Google believes users are looking for local shopping, restaurants, or services.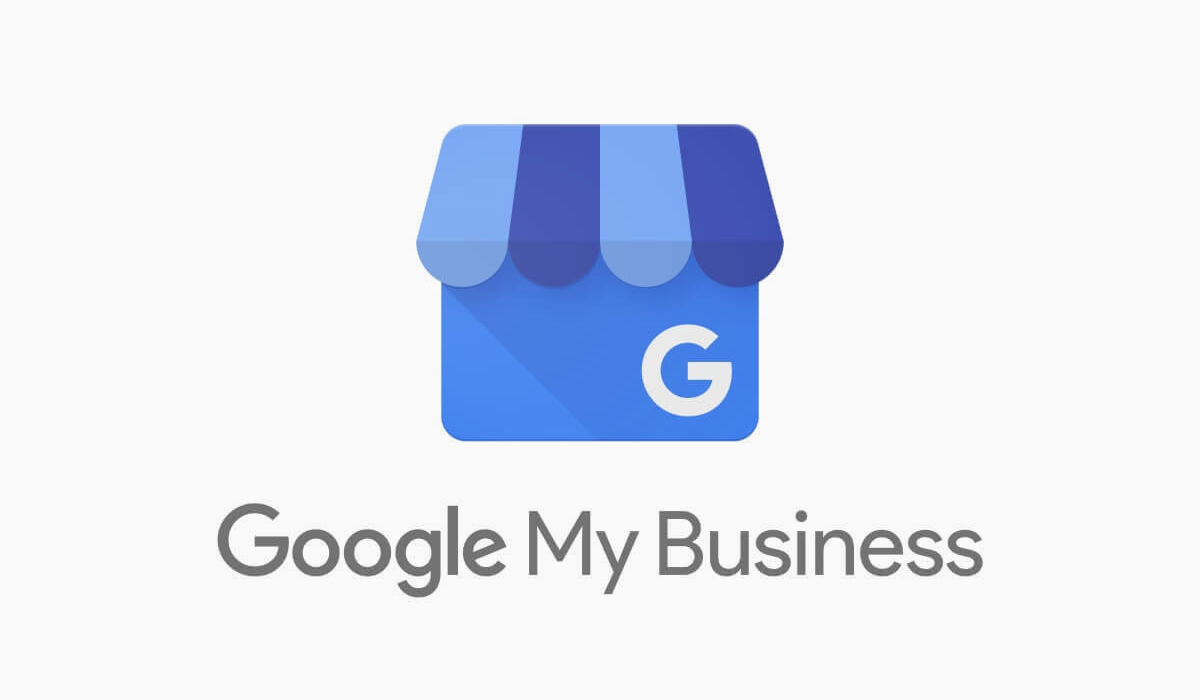 Instead of the top search result being the first thing people see, GMB results provide users a map and three or four suggestions of local businesses, including their website, directions, contact information, and consumer reviews.
Not only is this more convenient for people who don't have to click a link to find the contact information for a business, but it is also convenient for businesses—like law firms—because it helps improve their SERP ranking, particularly for their local area. Therefore, Google My Business should be an integral part of any law firm's marketing efforts, regardless of its size.
A GMB listing is also a great way for law firms to take control of the information that people see when they perform a search.
Why a Google My Business Lawyer Listing Matters
People with a specific legal need often search for a lawyer that is located nearby. This is why individuals use what is called "local intent" in their search terms. This can happen by using the words "near me" or including the names of a city or town.
There are other reasons why people turn to Google to find a local lawyer. Hiring a lawyer can be a very stressful and daunting process, especially for those who have never before had a need for legal services. And the odds of someone clicking "Like" on the Facebook page for a divorce lawyer while they're considering a divorce is unlikely.
Anonymous online searches are a discrete avenue for prospective clients to find out more information on attorneys in their area. That is why every law firm needs a good GMB lawyer listing: to provide as much information to potential clients in the simplest and most accurate manner.
How to Set Up Your Law Firm's Google My Business Listing
Before you set up a GMB law firm account, it is important to make sure that you are not already listed. Someone else may have set up the account without you knowing. Rest assured that this is a relatively common occurrence and it is not usually a cause for concern—an existing account can be switched over to you with relative ease. Google your law firm's address (and potentially your firm and partners' names) to see if the location is already linked to your practice.
Without checking beforehand, you run the risk of creating multiple Google My Business listings, which will greatly reduce the effectiveness of your legal SEO in the future.
Step 1: Sign into your Google account
After you confirm that you don't have an existing GMB law firm listing, the first step is to go to the Google My Business homepage and sign in to your account. This will begin the process of claiming your business.
Step 2: Enter Your Contact Information
Once you have logged in to claim your Google My Business listing, you will be prompted to provide all of the relevant required contact information. Try to provide as much information as possible, as this will help increase your firm's search rankings.
Google will ask you to provide your firm's name (use your accurate and full firm name, not a name designed to improve the search), address, phone number, and website URL (again, your actual site, not your Facebook page).
While your contact information and location are important for your GMB lawyer listing, there are two other important details that will have a huge impact on your search rankings (see steps 3-4).
Step 3: Determine Your Service Locations
Determining how many locations you service beyond your direct city can help extend your reach in the local search. For example, if your firm's main office is located in Los Angeles, CA but you also have an office in Irvine, you can add that additional location.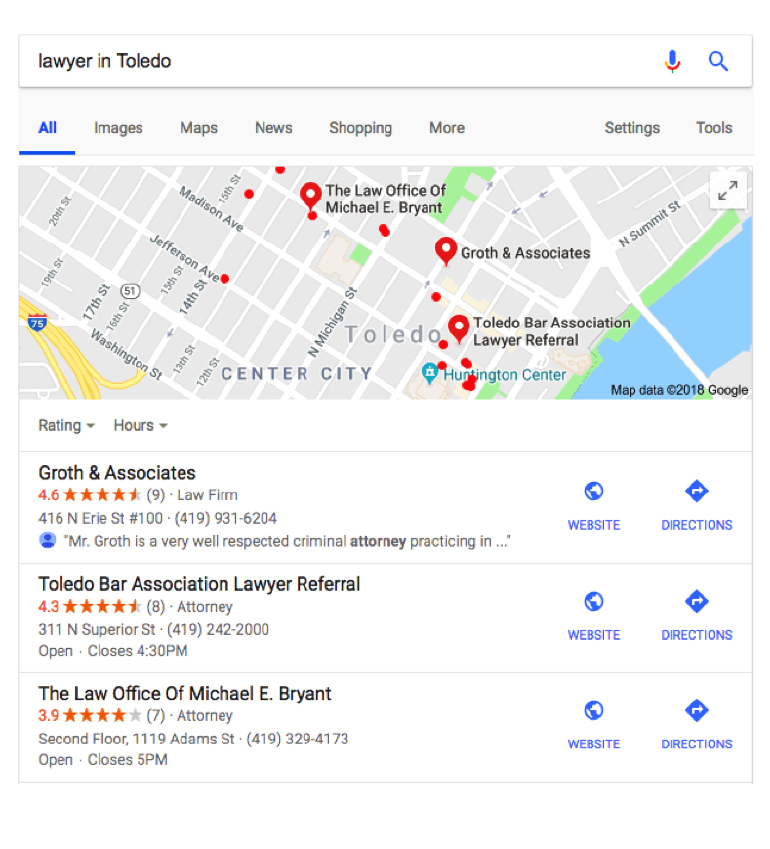 Keep in mind that trying to trick the system by creating fake "satellite offices" or simply listing a bunch of cities can come with steep penalties. Google may even remove your listing completely.
Keep it simple: don't optimize your Google My Business listing or website for locations you don't really serve or in which you don't have an office.
Step 4: Select the Correct Google My Business Category
Perhaps the most critical part of your GMB lawyer listing is choosing the right business categories.
Start with the primary category, and add additional categories when relevant.
While you can choose a broad term like "lawyer" or "law firm" for your primary category, the more specific the category you choose, the better your results will be. Specific terms and locations like "divorce lawyer San Diego" are considered "long-tail keywords," and they make up 70% of all web searches. This is because it helps people get a more accurate result for what they are looking for.
By using specific categories on your GMB lawyer page, you can serve your potential clients more effectively while also reducing your competition.
Step 5: Verify Your Google My Business Listing
It may not be as simple as clicking on a button labeled "Google verify my business," but the verification process is still relatively painless. You can choose to verify your Google My Business listing through a phone call, SMS text, or postcard sent to your firm's listed address.
In most cases, Google will send you a postcard.
You will then receive a verification code. Once you have it, sign into google.com/business and click on the red "Verify Now" button to enter your unique verification code. After you have verified your Google My Business listing, you will be able to fully customize your GMB lawyer page.
Step 6: Complete Your Profile
With your Google My Business listing completely verified, you can now add much more information to your profile, fully optimizing your listing. This will give you a competitive edge in the search engines and provide your potential clients with a simple avenue to start learning all about your law firm.
Completing your profile will take more time and care than when you initially signed up for a Google My Business listing. In your full profile, you can add your business hours, images of your office and staff, and more. Three additional elements of your GMB law firm profile will require more resources—but they are well worth the investment to distinguish yourself in the local market. They include client reviews, high-quality images, and legal brand videos.
Client Reviews for Legal SEO
Reviews are a critical part of the online shopping experience, whether someone is searching for a new washer or a good lawyer. They are such an integral part of our experience when shopping online that 84% of people now trust online reviews as much as family and friends' recommendations.
Reviews don't just matter to your potential clients, though.
Search engines place a lot of weight on them, as well. In fact, online reviews make up 10% of Google's local ranking variables, according to Moz.
A Google My Business listing makes it simple to get reviews for your law firm. You can use a unique URL to request reviews from your clients, and even send reminders for clients to provide reviews. Plus, you can reply to them, which is not only helpful when you need to rebut negative comments, but also shows your engagement with your clients and gives you an opportunity to turn their experience around.
Just make sure you follow the guidelines for reviews and do not offer incentives for them.
Add High-Quality Images and Your Legal Brand Video
You may have a lot of words on your Google My Business listing, but visuals are just as important.
Images and videos have a significant impact on the amount of online traffic your law firm will receive. According to Google, "businesses with photos receive 42% more requests for driving directions to their location from users on Google, and 35% more clicks through to their websites than businesses that don't have photos." They suggest including a wide variety of photos regardless of your industry. Restaurants commonly take advantage of the space that GMB provides for images, populating it with photos of delicious food as well as the exterior and interior of their building. Law firms may not have as many enticing things to depict as restaurants, but the images are still very informative.
For your GMB law firm listing, you will want to include high-quality photos of the exterior and interior of your office, as well as team photos that include your individual lawyers and employees. You could include headshots of your partners and even a picture of the conference room where you meet new clients for the first time.
Once you have identified the right images for your Google My Business listing, you also need to follow best practices to optimize your images for legal SEO. According to HostGator, this entails using a customized filename that includes a target keyword, writing keyword-rich alt tags, and adding images to your sitemap. Each of these steps will help Google thoroughly crawl your site and enable these images to show up in Google image search.
One of the most underused but powerful marketing opportunities in the Google My Business listing is the video portion of the page.
From your GMB lawyer profile, you can upload a video to your listing. This option was only released in 2018, and business owners can include up to 30 seconds of video that will be visible 24 hours after posting it.
If your firm has a YouTube page, adding a video to your Google My Business listing is as simple as connecting your YouTube account. Once you have done so, you can log into your GMB profile and choose the video you would like prospective clients to see.
Need more reason to invest in video marketing for your law firm?
People browsing online today expect to consume content through video—just consider how video-driven today's social media feeds are. Video on a landing page can increase conversions by 80%—and Google My Business is essentially a third-party landing page. For law firms, it also adds a personal element to your practice—which is crucial for the sensitive, relationship-driven services that lawyers provide.
If you don't have a video, or you are ready to update your firm's brand video, Hereby is a team of video marketing experts ready to help tell your story to prospective clients. We are happy to answer any of your marketing questions and help you produce a legal brand video that represents your firm in the best way possible.
A Quick Recap on Setting up Your GMB Account
As we covered, setting up a GMB account for your law firm is relatively straightforward. Here's a brief recap:
First, sign in to your Google account from the Google My Business homepage. Second, enter your accurate contact information including full business name. Third, add other service locations. Fourth, choose your GMB category (specific is better than general). Fifth, verify your GMB account. Finally, complete your profile by adding more content and visuals—including quality video to make a strong first impression.
For further questions about marketing for your law firm or how to use visuals and video for maximum impact, reach out to the Hereby team.